In episode 52 of the Paws & Reward Podcast, Laura Monaco Torelli and I talk about Cooperative Care, a topic Laura is fluent in and has achieved many amazing training goals with a variety of species. Laura and I formally met when I reached out to her for assistance with Sully. As he was aging, he had a hard time using the stairs. We worked on getting him to the point where I could wrap a surgical sling around his waist to support his back end while walking up the steps. Watch our conversation on my YouTube Channel.   
What does cooperative care with our dogs mean?
Cooperative care falls under the umbrella of every interaction we have with our animals. It's all of our nuanced interactions with our animals that build the reinforcement history and relationship over time. It's every interaction we are having with anyone else that has a role in taking care of this animal as well.
The goal of cooperative care is to conduct a husbandry activity WITH your dog as a team instead of conducting the activity TO your dog. It involves offering the animal as much choice and consent as possible when engaging with one another. Husbandry activities might include: getting brushed, cleaning ears, trimming nails, restraint for the vet to conduct a procedure, wiping paws, or getting a vaccine.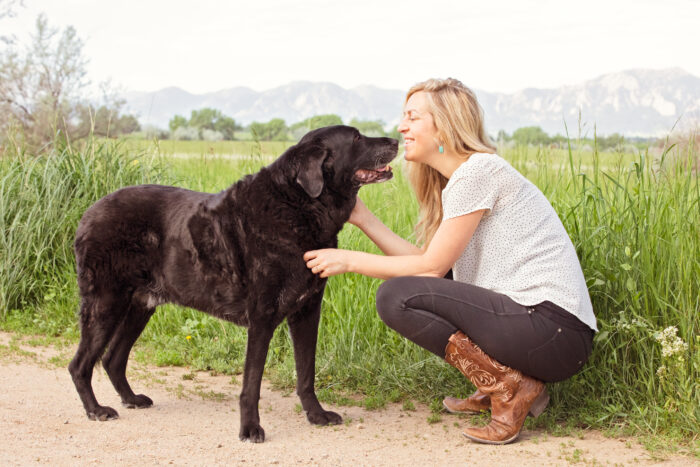 What are the key ingredients for cooperative care sessions?     
Determine what procedure is the highest priority.
Ask the vet care team what that procedure looks like so you understand the training context you need to replicate at home while you practice. Some questions might include:

What will the procedure look like? Who will be present?
What will they need to do with the dog? Restraint?
Where will the procedure be conducted?
Whether or not the pet aprent can be present during the procedure?
What would be best to practice at home?
The above questions will help you determine the necessary contextual cues that you need to weave into the training plan. For example, the presence of the nail clippers, the smell of the ointment that will need to be used, and your body placement in relation to your dog. These are variables that need to be practiced at home to prepare your dog for the vet clinic procedure. Practicing in different locations with different people can help your dog generalize the behaviors needed.
Where to Find Laura Monaco Torelli
Other Resources:
Get notified when new episodes drop so you don't miss a thing!