Enrichment and mental stimulation are the most important outlets you can provide your dog at any age! It can help reduce many unwanted behaviors in our young puppies and adolescent dogs as well as keep our senior dogs sharp, exercising their cognitive abilities!
Enrichment can help prevent these behaviors:
Puppy Mouthing
Attention Seeking Behaviors
Boredom
Destruction
Anxiety and fear
Barking, digging in the backyard
The list goes on….
Important Tips:
If you have multiple dogs in your home, I would encourage you to give the enrichment items to your dogs separately so they do not argue over the new high-value items.
If you plan on taking one of the enrichment items away from your dog (he is eating it or it's no longer safe) I would trade him out using treats. Approach the dog, say "Trade ya" and then toss high-value treats (cheese, chicken) away from the item to prevent resource guarding.
I would avoid giving your dog these items after they have rehearsed attention-seeking behavior, such as barking. Check out how to prevent inadvertently reinforcing these behaviors.
These items are a great way to create a positive association to a location in your home, such as the crate, on the opposite side of a baby gate or in another room with the door closed.
Below is a list of activities that can build independence and confidence without the owner present. The involvement of the owner is preparing and providing the dog with the enrichment.
Active enrichment
These toys/games encourage movement from your pup!
Kong Wobbler: toss treats / kibble inside this hard plastic toy and watch your dog eat his meal with delight!
Kibble Nibble
Passive enrichment
These toys / games encourage may encourage stillness, as your dog licks and chews these items, especially if the food inside is frozen! Great to give your dog inside a crate or when you're encouraging settled behavior. *Note: Once the food begins to thaw out, your dog may become active with these toys, tossing them into the air to get the remaining bites.
The Kong: You can feed your dog's entire meal inside this toy. The goal would be to pack his / her food inside and then pop the Kong into the freezer. This helps to elongate the amount of time it takes for your pup to eat his meal. This helps with digestion as well as reducing unwanted chewing behaviors.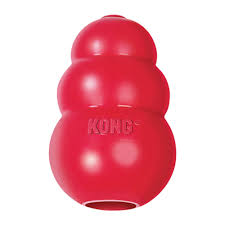 PetSafe Busy Buddy
West Paw Zogoflex Toppl
Slow Feeder Bowls and Food Puzzles
These are great tools to continue to provide enrichment during meal time slow down your dog's eating habits. There are many products out there but I like these two items below to get your dog started in this area.
Outward Hound Slow Feeder Dog Bowl: This is a great way to slow your dog's food intake. This will support proper digestion while enriching your dog's mind.
Outward Hound Paw Hide Interactive Dog Toy Puzzle: Your dog uses the sniff holes to find the yummy treats tucked under the yellow puzzle pieces. He then needs to figure out how to take the pieces out of the puzzle to get his dinner!
Advanced Games
Nina Ottoson Treat Maze Interactive Game
Nina Ottoson and Outward Hound have teamed up to bring you some challenging food puzzles for the smarty pants in your family!
West Paw Zogoflex Qwizl Interactive Treat Dispensing Dog Puzzle
Put a bully stick inside and make it last longer!
OURPETS IQ Treat Ball
Feed your dog his / her meal inside this feeder ball. This particular toy is more challenging since the dog needs to get the treats out of 2 holes instead of just one before he gets the goodies!
JW Evertuff Treat Pod Toy
You can load this toy with some yummy treats or smear with peanut butter. Watch as your dog tries to move the pods around to get the treats out or licks the peanut butter til it's gone! This is a great toy that stands up to the toughest chewer!
Buster Activity Mat
This mat is so much fun! Hide treats inside the pockets! The start kit comes with 3 games but you can add more to the mat to make the experience more exciting. Here is a video of a demo!
StarMark Bob-A-Lot Interactive Dog Toy
Another great food dispensing plastic toy! This toy is a bit more challenging than most and you can fit your dog's entire meal inside.
PetSafe Busy Buddy Tug-A-Jug
Last but not least, I love this toy for the chewers and tuggers of the world. You fill the inside with kibble and treats while your dog has to tug on the rope encouraging the food to fall out!
DIY Enrichment
Check out the video to see what items you can make at home!
So now that you know a ton of great ways to mentally enrich your pup, it's time to make the commitment to yourself and your dog and provide these tasty and fun activities daily.