In episode 55 of the Paws & Reward Podcast, I chat with Bobbie Bhambree-Wirkmaa, director of behavior services and a certified dog behavior consultant at Behavior Vets, about the Resilience Rainbow and building resilience in dogs. Resilience is the ability to adapt successfully to, or recover quickly from, stressful events, situations, and conditions. What are the 7 domains of resilience conditioning and why are they essential for our dogs to learn and our training plans focused on building resilience in dogs? Watch our conversation on my YouTube Channel.  
How do we build resilience in dogs?
As found on the Behavior Vets Facebook and Instagram pages:
"Resilience is the ability to adapt successfully to, or recover quickly from, stressful events,  situations, and conditions.
"Resilience relies on effective responses to environmental change, and resistance to the negative effects of stress, therefore a thorough understanding of the factors which influence these mechanisms is fundamental to raising and living with our dogs and other companion animals.
"Whether a professional in the behavior field or a competitor of dog sports, we must consider building resilience in dogs when creating training programs or addressing behavior issues. Most dogs around the world no longer live quietly by the fireside, roaming open spaces, without restrictions; and as society continues to change, our cities get busier and our lives more hectic, it's not only humans that benefit greatly from an ability to adjust and adapt."
Why is building resilience in dogs important?
As found on the Behavior Vets Facebook and Instagram pages:
"Stress and trauma can have a substantial impact on brain function and structure, and can result in the development of behavioral abnormalities. But not all animals exposed to stressful events develop behavioral abnormalities and those animals that don't are said to be resilient.
"So what is different about the way the brains of those animals function, and how can we as carers influence brain function to improve resilience in animals? An understanding of resilience mechanisms is therefore at the heart of being able to effectively influence behavior.
"Resilience Conditioning is not separate from behavior modification, but rather, should be part of every training program and behavior modification plan. Based on the human literature, we have come up with a program to support dogs. We are calling it The Resilience Rainbow."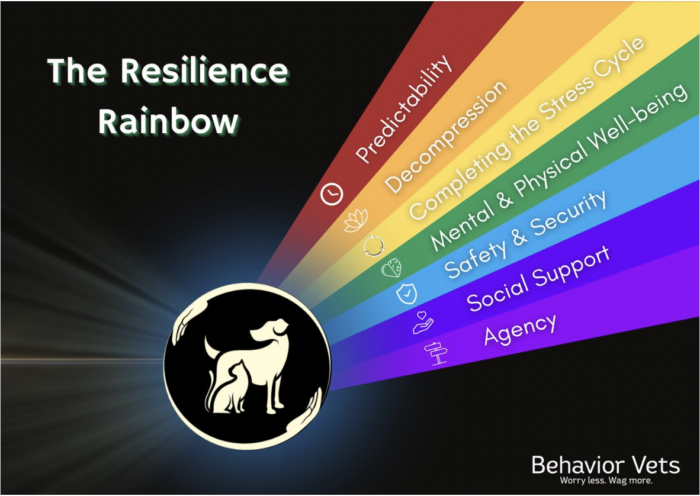 What is the Resilience Rainbow and how can it help when building resilience in dogs?
As found on the Behavior Vets Facebook and Instagram pages:
"Why did we choose a rainbow to illustrate this concept? Because it's colorful and tends to elicit a smile when seen in the sky. We hope that training could feel like that for every person and their dog.
"Also, there are 7 domains that we have identified based on the research done on resilience for humans, like 7 primary colors in a rainbow.
"The Resilience Rainbow has 7 domains for resilience conditioning. Within each domain are exercises, games, and concepts to support the program. There isn't a particular order, but rather, each domain is occurring simultaneously, just like each color of a rainbow."
Mental & Physical Well-being
Agency
Social Support
Safety & Security
Completing the Stress Cycle
Decompression
Predictability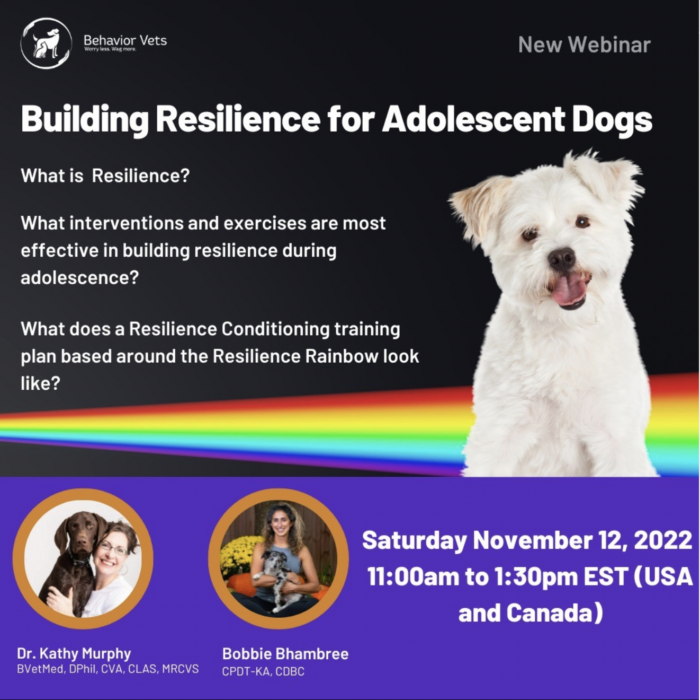 Building Resilience in Adolescent Dogs Webinar
Sat, November 12, 2022, 11:00 AM – 1:30 PM EST
As found on the Behavior Vets Instagram pages:
"Eliminating all stress in life is impossible and is never the goal of training. Instead, the goal is to help a learner acquire the skills which enable them to process stressful experiences and grow more resilient from them. In this session, we will use a model founded on scientific principles, which was created by our experts here at Behavior Vets. The Resilience Rainbow represents seven domains around which an individualized training plan can be created which will support the adolescent dog's development and help them build resilience.
Program Agenda:
Brief overview of resilience – what is it, what biological mechanisms are at play
Brief overview of adolescence – the neurobiological and other physiological changes which happen during adolescence
Resilience Conditioning as a concept – what do we know from the literature
The Resilience Rainbow as a model for Resilience Conditioning in animals
Practical application of the Resilience Rainbow specifically for adolescents.
Learning Objectives:
Attendees will be able to understand and apply the principles of Resilience Conditioning to their client cases.
Attendees will be able to compare and contrast the different domains of resilience to identify which area of resilience requires attention and communicate this to their clients.
Attendees will be able to design their Resilience Conditioning programs using the 7 domains of Resilience Conditioning.
These webinars are suitable for veterinary professionals, animal trainers, animal behaviorists, dog sports teams, shelter and rescue staff and volunteers, and anyone with an interest in evidence-based behavior intervention."
This is an online event. This webinar will be recorded.
Where to find Bobbie Bhambree-Wirkmaa:
The first dates for The Resilience Rainbow in-person seminar have been announced! Follow the Behavior Vets Instagram for further information.
Madison, NJ on April 29 -30, 2023
Asheville, North Carolina on May 6-7, 2023
Other Resources:
Get notified when new episodes drop so you don't miss a thing!