In episode 30 of the Paws & Reward Podcast, I chat with Sarah Stremming about real behavior change for reactive dogs. What are the steps toward achieving true change and how do we know we've been successful? 
When working with our dogs on a challenging behavior issue, real change can feel impossible. But with the right tools and support, the end goal becomes much more possible – even when we're dealing with reactive or difficult dogs.
We are socialized into thinking that masking symptoms is what getting better looks like. Something we must ask ourselves when starting a behavior modification journey with your dog is "Do we want a quick fix or to actually modify the behavior"?
Watch this conversation on my YouTube Channel.
The Pros and Cons of a Quick Fix Behavior Change for Reactive Dogs
Pretty much all behavior concerns at least need a management strategy to prevent the behavior from getting worse and/or to make the environment safe for everyone involved.
It's like visiting a hospital when you have a bleeding wound. First, they need to stop the bleeding and then they can assess the underlying cause. It's necessary damage control.
But if the goal is real behavior change for reactive dogs, then we can't rely on a management strategy alone.
The challenges with a management plan include:
Management strategies are necessary to provide immediate relief and to prevent the behavior from getting worse, but it doesn't address the root issue.
It will fail because we're human and we make mistakes. So backup management plans are always necessary.
It does not modify your dog's behavior. So if your dog is in a problematic situation again, they may react poorly and exhibit the problematic behavior.
Let me be clear and say I LOVE MANAGEMENT STRATEGIES. If that is all you have the bandwidth for – that is OK! There are many clients I work with that do not have the capacity to do detailed behavior modification plans and that is also OK!
But if you do want to head down the road toward real behavior change for reactive dogs, management strategies would be the first step while you work on a customized plan for a long-term solution.
Click on the image to learn about a few of my favorite reactive dog management strategies: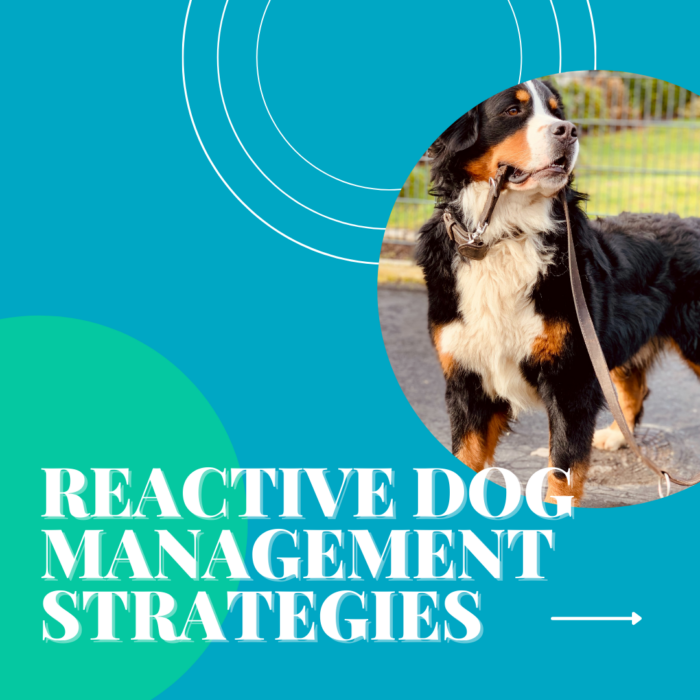 Creating a Behavior Modification Plan for Reactive Dogs
When creating a behavior modification plan, keep in mind that a certain behavior protocol or procedure that worked for someone else, may not be the right fit for your situation or the dog. We recommend working with a professional who is patient and flexible.
The ultimate goal of any behavior protocol or procedure is for the dog to be comfortable. When behavior change is successful, constant intervention and management aren't necessary.
It's also important to keep your expectations realistic when working on behavior change for reactive dogs.
If a new behavior seems out of reach, for example, neutrality is a worthy goal for many pet parents. Going from a negative association to a neutral reaction is a huge accomplishment and one that should be celebrated. It's perfectly normal for dogs to not want to be friends with every person or dog they meet. They're allowed to say "no" to an interaction.
The Path Toward Behavior Change for Reactive Dogs
Remember: If the procedures aren't working, it's because the root cause of the behavior or reaction isn't being addressed. As you work toward true behavior change, there are steps between where you start and the goal.
You may begin a procedure that gets you closer to the end but doesn't fully solve the problem. It doesn't mean the time spent was wasted, it just means it's time to move to the next step and find new tools to help on your journey.
True behavior change – especially behavior change for reactive dogs – takes time, patience, and commitment. But it's worth it.
More Resources on Behavior Modification & Living With Reactive Dogs
Get notified when new episodes drop so you don't miss a thing!