In episode 32 of the Paws & Reward Podcast, I am thrilled to speak with one of my heroes, Dr. Patricia McConnell, about building resilience in dogs. She is not one that needs a formal introduction since she's a household name when it comes to behavior and training, has written so many books I have lost count, and has made such an innovative impact on our profession! Today we will be discussing how to build resilience in dogs and ourselves.
Watch the conversation on my Youtube channel.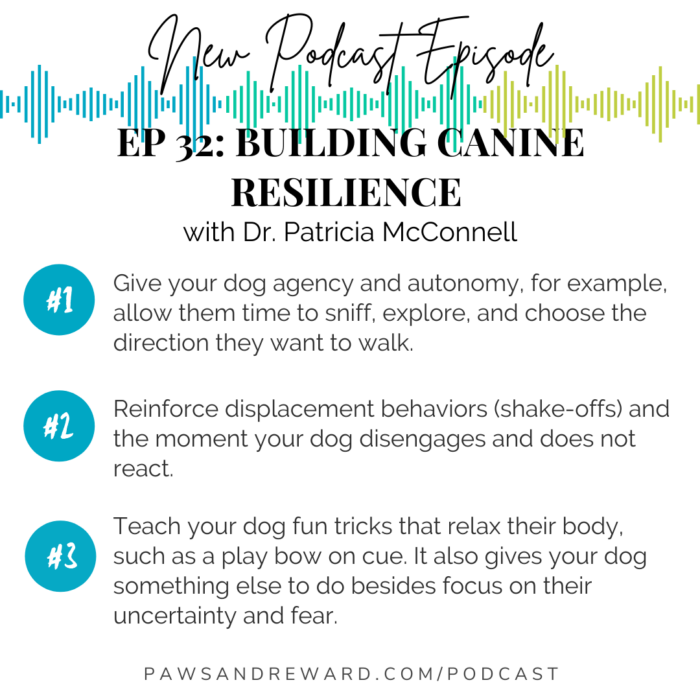 Before we get started, can you define what we mean when we say resilience in dogs and dog training?
Resilience is being able to cool down after you get hot. Resilience is being able to get back to normal and find balance under extreme conditions. When we throw off our homeostasis or step outside our comfort zones, it can be incredibly hard to get back to normal.
All of this applies to dogs as well. Dogs who are resilient can shake off unpleasant situations over and over. Dogs who aren't resilient can't get back into that homeostasis state because they're always on alert.
One of the best things we can do to manage and modify dog behavior is to work on building resilience in dogs.
What are some examples of a lack of resilience in dogs?
A dog who is not resilient is quick to react and has a difficult time calming down after any given situation. A person or dog who isn't resilient is living in fear, they are always on alert. It creates a feeling of being out of control.
What might affect a dog's confidence levels or ability to be resilient?
Building resilience in dogs isn't simple. There are many factors that can impact a dog's ability to build resilience. Some of those factors include: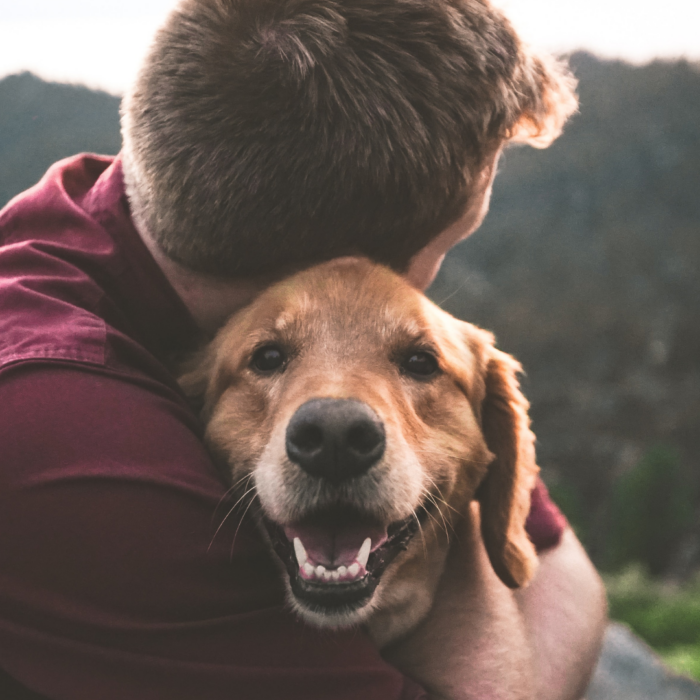 What are your favorite strategies to build confidence and resilience in dogs?
On this podcast, I like to shine the light on the human end of the leash since as you know living with dogs can be equally as amazing as it can be challenging, especially when we're dealing with a difficult dog with behavior concerns. A lot of my clients report that they lack confidence and are very concerned that their personality or level of stress might be making their dog's behavior problems worse.
Yes, if you are really nervous, especially about something specific (walking by another dog, a child approaching your dog, or someone petting them on a sensitive part of their body) it can transfer to your dog. Does it mean you made your dog anxious or reactive? No.
There are many factors in behavior, and the owner's anxiety is only one small piece. It's much more complicated than just one thing causing reactivity or poor resilience in our dogs.
What are some ways we as pet parents can build our own resilience in order to support resilience in dogs?
"Remember, this is hard. Give yourself grace and take care of both you and your dog."
Learn more about building resilience in dogs and get our best dog training tips
Get notified when new episodes drop so you don't miss a thing!