In today's episode of the Paws & Reward Podcast, I am thrilled to catch up with Sarah Stremming of The Cognitive Canine and share some our favorite dog trainer secrets. During this episode, we each share three life lessons we have learned from training our own dogs, working with clients and their dogs, and making careers of being behavior nerds.
These aren't your typical dog trainer secrets, but they just might help you as you work with your own dog.
This conversation between us started when we were brainstorming for our webinar series called The Connection Summit: Prioritizing the Human-Canine Relationship for Successful Behavior Change.
You can still get access to The Connection Summit online if you want to learn more about dog trainer secrets that strengthen the human-canine bond.
So, what dog training lessons have we learned during our years in the business?
Marissa's Top 3 Dog Trainer Secrets:
Noticing what triggers me emotionally is a great skill to have. It helps me get clear on how the environment affects my reaction. With this awareness, I can make several different choices that could have positive outcomes. I can notice how I am feeling and take a breath before responding. I can also proactively set up the environment to prevent a triggering situation from taking place and adjust my own expectations.
Noticing my triggers and being self-aware is a great skill but ultimately I can't control many things that happen in my life. This is true for working with our dogs as well. Management plans fail and it's up to us to develop recovery skills to get us through that hard time.
Behavior is fluid and so are relationships. Being flexible to the things that take place in my life is one of the best dog trainer secrets that will allow for more flexibility when engaging with my dog and others.
The podcast I mentioned on this episode: Dump Your Inner Drill Sergeant‬ Podcast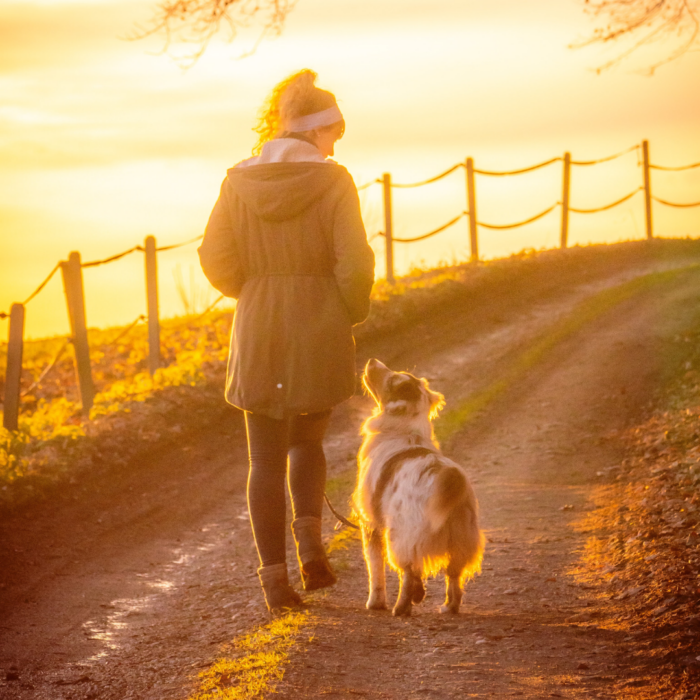 Sarah's Top 3 Dog Trainer Secrets:
Move your body!! Getting out in nature has been a gift to both Sarah and her dogs. They both get what they need and have the capacity to move through life with more resiliency.
Sarah noticed how her reactions affect her dog's behavior, both in a positive and sometimes in a negative way. She used this knowledge to make new choices in situations, cultivating the responses she was looking for in both herself and her dogs. Understanding how human behavior impacts dog behavior is one of the best dog trainer secrets you can start incorporating into your everyday life.
Communication is the cornerstone of all relationships. If Sarah did not get the outcomes she was looking for with her dogs, she did not assume it was the dog's fault. Rather, she spent time trying to perfect her communication and training skills in order to help her dogs understand what she was looking for. She now does this the best she can in all relationships.
Can't get enough dog trainer secrets?
If you love learning directly from dog training experts, then make sure you're subscribed to the Paws & Reward Podcast. Each week we interview dog trainers and other canine experts on all things dog ownership.
Be sure to also explore Paws and Reward's dog training online programs, including The Connection Summit and The LIMA Beings.
Follow Sarah Stremming online, too, to learn more of her dog training secrets.
Get notified when new episodes drop so you don't miss a thing!